Color Canopy Aluminium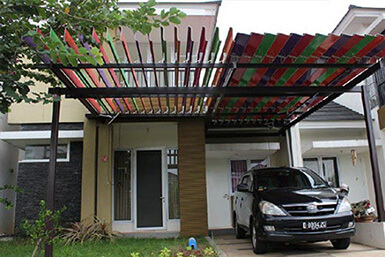 To meet the tastes and needs of consumers, then the design in manufacturing ALUMINIUM SUNLOUVRE Canopy is provided with a wide range CANOPY COLOUR. Technology coloring is done in special mills and use oven system or commonly referred to as Powder Coating Technology.
The technology used for painting CANOPY ALUMINIUM SUNLOUVRE are using the system oven with a predetermined temperature. So the result was much better and the quality of the paint is more durable.
Spesifikasi :
| Component | Material | Dimension | Layer |
| --- | --- | --- | --- |
| Leaf | Sheet Alumunium | 200 | Powder Coating |
| Buffer Threshold | Alumunium Extrusion | 40 x 100 - 40 x 125 | Clear Anodized |
| Threshold | Alumunium Extrusion | 400 | Clear Anodized |